The Art Fills the Void! project took place during the summer of 2015 and was sponsored by SE Uplift's Small Neighborhood Grants Program. This project included several community outreach, education, and networking events, including a comprehensive map of street art in SE Portland, a interpretive bicycle tour, a street art of SE Portland brochure, and the revitalization of Portland's oldest "gorilla graffiti," the iconic Art Fills the Void! mural on SE 12th & Division.
The goal of this project was to provide more community resources and opportunities that promote livability and art in the streets of SE Portland. These types of experiences not only increase the number and diversity of people engaged in and connected to their communities thereby promoting stronger cultural and historical identities, but they also empower people to become active leaders with the skills and inspiration needed to continue to shape and improve their shared public spaces in the future.
BICYCLE TOUR
The Art Fills the Void! project provided a public interpretive bicycle tour of existing murals and street art installations in the SE Uplift area of Portland. PSAA tour guides provided descriptions, histories, and explanations of the artwork seen at each tour stop.
PSAA tour guides provided a bicycle tour that provided descriptions, histories, and explanations of the artwork seen at each tour stop. Several local artists, activists, and academics participated by being guest speakers a tour stops; talking about various topics they focus on and experiences they've had painting murals in Portland.
Speakers included local artists Jon Stommel and The Lost Cause, who spoke about their experiences painting the Music Millennium mural in 2013 in collaboration with PSAA.
Local artists Paige Wright and Lord Blakley who spoke about their experiences painting murals for the 2014 Forest for the Trees project.
Representatives from the City of Portland including City Planner and mural permit program coordinator, Douglas Strickler and Regional Arts and Culture Council (RACC) Public Art Manager Peggy Kendellen provided overviews of both official systems for creating legal art in the streets.
Other speakers included Gage Hamilton, director of Forest for the Trees, Kohel Haver a lawyer who specializes in artistic copyright law, and PSU geography professor Hunter Shobe whose research focus on the politics of public space, geographies of graffiti, and sense of place. Unfortunately the bicycle tour had to be cut short due to inclement weather (even for Portland standards!) so the rest of the group converged at Sweetpea Baking Company for good coffee and conversation.
HISTORIC MURAL RESTORATION
The Art Fills the Void! project also included the full historic restoration of the iconic Art Fills the Void mural, something that has not been done in decades. After decades of tagging, buffing, and haphazard touch-ups, PSAA connected with muralist and sign painter Frank DeSantis to obtain original photos, stencils, and schematics to be able to reproduce the mural true its 1982 form.
The repainting took weeks of planning, 5 days to buff and repaint. This was all completely done with volunteer labor, organized by PSAA. In addition to core PSAA volunteers, several local artists like Galen Malcolm, Jon Stommel and Travis Czekalski (Rather Severe) donated their time and expertise to paint the mural details.
Additionally, several banana mural neighbors, mainly Joel and Mary Schroeder, provided invaluable assistance, coming out to help on multiple days, storing ladders, and helping PSAA manage on-the-ground logistics. Restoring this mural was truly a community achievement, through and through.
Everyone passing by had great things to say about the mural, recounting their experiences with it throughout the years and how wonderful it was to see it being restored. Local business employees came out on their breaks to watch us paint and chat about the project. Passing cars honked, bicyclists rang their bells, and every two hours we got a tipsy applause from the bar-hopping group bicycle tour, Pedalounge.
These types of experiences not only increase the number and diversity of people engaged in and connected to their communities thereby promoting stronger cultural and historical identities, but they also empower people to become active leaders with the skills and inspiration needed to continue to shape and improve their shared public spaces in the future. PSAA was proud to be able to restore this piece of Portland history for generations to come.
More pictures from the mural restoration. All Photos © PSAA (Anton Legoo)
CONTINUED MURAL RESTORATION & PRESERVATION HELP NEEDED Want to help keep the banana fresh?! PSAA is asking for doantions to help support covering the additional costs of the discounted protective anti-graffiti clear coating ($300) and continued maintenance of the mural. PSAA is also hoping to one day raise $200 so we can have a bronze historical plaque cast and adhered to the wall, describing the historical importance of the Art Fills the Void! mural. Please consider donating to this important community effort via the project's on-going GoFundMe. All donations are tax-deductible, please email us for details.
MAPPING SE PDX STREET ART
Part of the Art Fills the Void! project was to create a comprehensive MAP SE PORTLAND STREET ART. This map is a snap shot of permission street art during the Summer of 2015. Since art on the streets is always changing, with old murals being lost and new ones painted all the time, we look to the community to notify us of new or lost art.
THE HISTORY OF PORTLAND'S OLDEST "GORILLA" MURAL
With its abundant low-lying commercial buildings, ample wall space, and eccentric quirkiness, Portland Oregon had a unique mural arts scene in the 1980s. In 1982,Gorilla Wallflare formed.
It was one of Portland's first anonymous "graffiti" art crews. This small group of citizens brought some much needed color and excitement to Portland dull walls, all undercover, and without permission. They called them "painted landmarks, political statements, graffiti, and spoofs." After painting each of their three Portland murals, they sent a type-written letter to city officials and news outlets telling them about their actions and motivations.
Gorilla Wallflare's first "attack" was their Art Fills the Void! banana mural at the corner of SE 12th and Division. This large 30 by 50 foot painting of a bruised banana may look like a reference to Andy Warhol, but a member of Gorilla Wallflare has said that it was originally about the war in Central America, a banana republic, "Viva mi banana! The group later decided to change the wall's exclamation to "Art Fills the Void," as a protest to the existence of such a boring blank wall.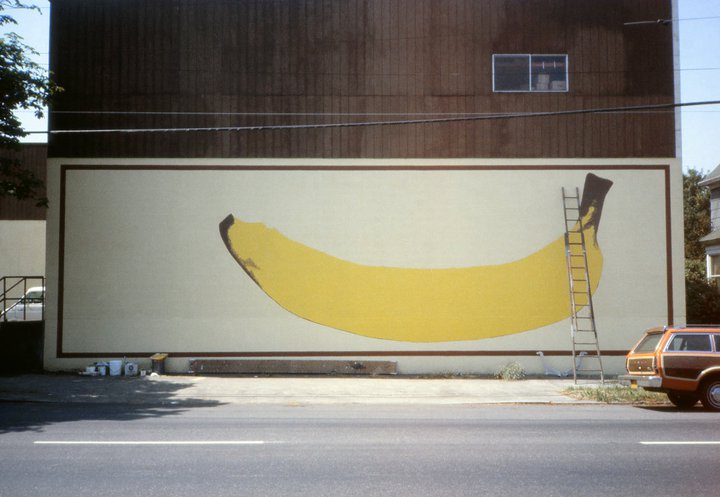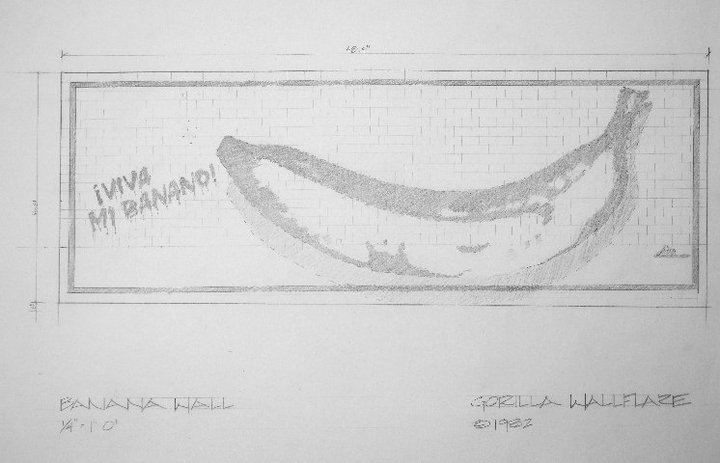 Art Fills the Void! is the oldest mural in Portland. Predating even the 1984 Black Pride Malcolm X Mural (Read more about that mural here).
It is also a rare example 80s murals in Portland. Many old community murals in Portland were lost between 1998 and 2005, during the lengthy legal battle between the City of Portland and AK Media (now Clear Channel) over signage rights.
This local landmark is centrally positioned on the corner of SE 12th and Division. Once a quiet and somewhat seedy and abandoned part of town, this is now one of Portland's most quickly gentrifying and developing neighborhoods, being cooked up by Portland's sizzling food scene.
The Art Fills the Void! mural shows how communities can embrace a piece of illegal graffiti, and over time come to appreciate and embrace it. With or without permission, this piece of "graffiti" has lasted decades, and now holds a special place in Portland's urban landscape and social consciousness.
2014 Interview with Frank DeSantis
Tell us a little about Gorilla Wallflare, and what made you form the group? There were about 5 of us who actually painted the murals. Of that, 4 were professional artists. But we had lots of honorary members. We were inspired by graffiti artists, just get out there and doing something about it. Artistic inspirations came from Calder, Lichtenstein, Warhol, Dali, Duchamp, Matisse, Man Ray, and a group called the Art Squad out of Canada.
Willamette Week called you Portland's "underground graffiti gang," did you see what you were doing as "graffiti" as we think of it today? Although I saw it as graffiti, I wanted it to be something different. We waved to authorities while we painted in broad daylight, sometimes taking all day to complete the project. Naïve, maybe, but there was definitely an adrenalin rush in being clandestine and brazen at the same time. I remember liking that, but didn't care for using the words "underground" or "graffiti" at the time.
Other than Art Fills the Void! did Gorilla Wallflare paint any other guerilla murals in Portland? We painted three murals – "Art Fills the Void," 'Oh No!" on the Hawthorne Bridge, and the "Fingerprint" on SE Belmont.
What were these other murals about? The Fingerprint mural on Belmont was a subtle message about privacy and the rights of the individual. It felt as if soon everyone would be followed and watched. The Oh, No! explosion, on the east end of the Hawthorne Bridge, was about the end of the world, then in 1984, just a few years away.
Why did Gorilla Wallflare send letters to the press about the murals? The letter was fun to write, and a great public relations gag. How else can you get a half page of free public relations and advertising in The Oregonian newspaper?
What were the reactions to you guys out there painting these murals in broad daylight without any permission? We wore painter's pants, hats, and had official-looking ladders. We usually painted on Sundays. At the time, there were no sign inspectors or mural regulations. This was also the worn, torn, and tattered Eastside; people just didn't notice of a couple of painters painting the wall. We had one person stop at the banana painting, a small Asian man carrying grocery bags. He looked up at us on the ladders and said, "Oh, that's enough food to feed my family all week." He laughed and kept waking. A police car drove by once and just kept on going. The owner of the office supplies store where the banana was painted was surprised by the new art, but they liked it. They actually incorporated it into their marketing campaigns.
Did you find that your antics generated any discussion in the city? Some discussion, I'm sure, but in circles I wasn't privy to in Portland. The city's mural program did loosen up some a year or two later, or so it seemed. We really weren't interested in the legal aspects. We were a guerilla operation; in and out. It was about free speech. We had more of an affinity towards graffiti, than the stodgy mural scene.
Gorilla Wallflare painted their murals before the City of Portland had to enact mural and sign permitting regulations we have today. How do you feel about that shift, how the city handles now handles public murals? Who's to say who can approve or not approve art? I'm not that knowledge about these mural waivers and permits, but I do know about sign codes and permits. Those I understand, but why regulate murals? They are artistic community ventures. We went through all that rigmarole for other murals. It was too much bureaucracy. Too much of being a "suit." By the time we got through it, we were bored with the whole thing and could care less. The initial creative thought and energy were lost. Better to beg for forgiveness, than ask for permission.
For more information and news on Gorilla Wallflare, visit them on their Facebook page.