2018 YAE Camp Re-Cap
In August 2018, Portland Street Art Alliance and WolfBird Dance hosted the first annual one-week summer camp for female-identifying youth ages 11-14. YAE! Young Artists Empowerment Camp was held at Clay Creative in the Central Eastside Industrial District of Portland. This program provides youth a platform to develop their artistic voices and find empowerment through art and dance.
During the two-week camp, ten youth from diverse communities across Portland were provided street art and street dance training, accompanied by workshops to learn about the pillars of hip hop and the history and background of this culture: Graffiti (freedom of expression in public space), MC-ing (rhythmic poetry, aka rapping), DJ-ing (artfully blending melodies using a turntable), Breakdancing (a highly expressive style of street dancing), and Knowledge (skills and community building). We dove deep into the fundamentals of hip-hop dance, focusing on free-styling techniques, battling tactics, and how to learn and remember choreographed patterns. They also received lessons in letter-making, drawing, aerosol painting techniques, mural composition, and paint safety.
YAE! Camp provides young women a platform to feel empowered and become creative, productive, and confident members of our community. YAE! Camp offered instruction from an eclectic staff of dancers and artists to display diversity in all forms of artistic professionalism. We brought guest speakers throughout the week to talk about their art and other programs happening in Portland, also lead by women. With the culmination of this camp, students worked together to create a choreographed dance, participate in an all female dance battle, and collaborate on the development of four different murals (one of which is still on display to the public at 420 SE Clay St in Portland). Our students presented these performances and murals at our final YAE! Camp wrap party, closing out the program with an opportunity for our young artists to show off their new skills to friends, family, and the community.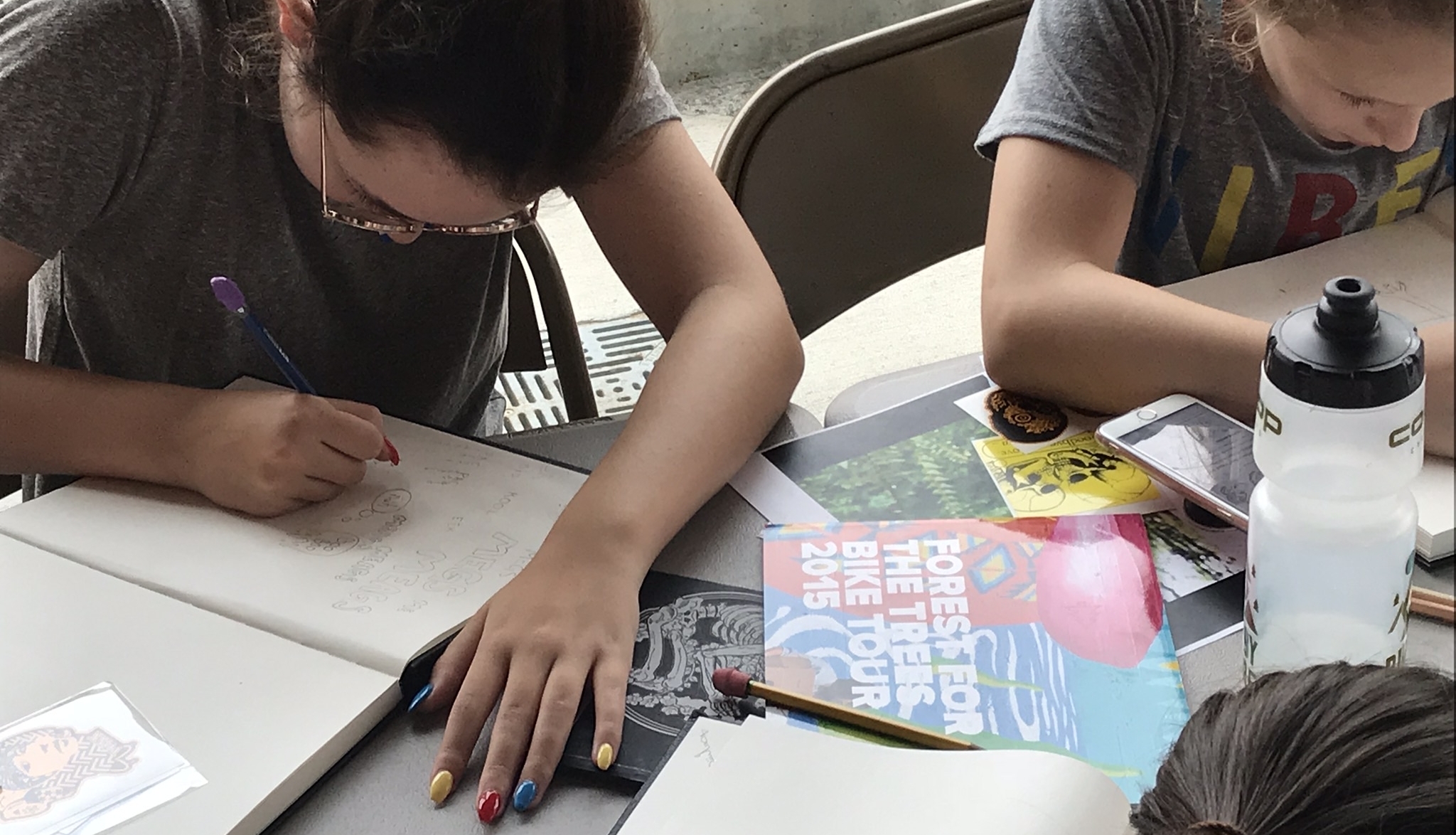 Daily black book sketch sessions help get creative energies flowing
Daily guest speakers helping to teach, inspire, and build community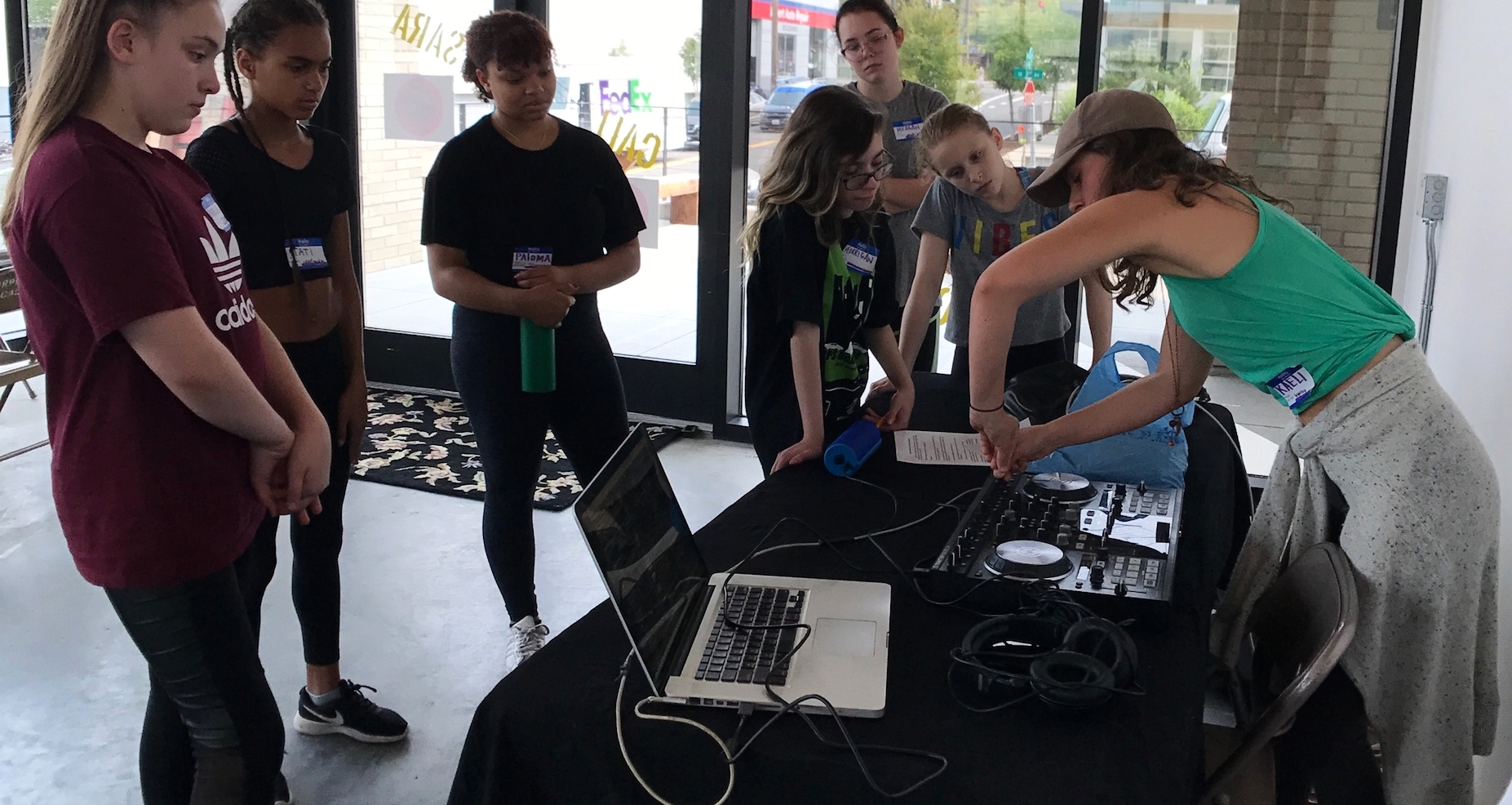 Break out sessions with local DJs to learn the basics of turntable mixing
In the mornings, camp participants were guided by mentors from WolfBird Dance to explore how freestyle and hip-hop can provide empowerment, healing, and comfort in one's own body. With the support of five main dance camp mentors, we taught the fundamentals of different styles of hip hop such as Krump, Wacking, and popping. We also provided the tools and understanding of how to develop your own freestyle voice and what techniques to use in a battle, while simultaneously teaching the importance of how to learn and retain hip hop technique and choreography. On the final day of YAE! Camp, our ten campers performed their choreography and participated in a final all-female dance battle.
Learn the fundamentals of hip hop freestyle dance
Coming together to develop new moves, encouraging each other to let loose
2018 YAE Camp | Dance Re-Cap
The afternoon session was led by members of the Portland Street Art Alliance. Campers were guided through the entire process of creating a mural, including visualizing, sketching, and painting with aerosol and brush basic techniques. They were provided both one-on-one and group lessons with PSAA's mentors. The final collaborative YAE! Camp Mural is on-display in the garage of Clay Creative, now a part of the larger Taylor Electric Project, a historic site in the Central Eastside of Portland that provides rotating wall space for local artists.
Daily aerosol spray painting lessons from established local artists
Learning to work together as a team to create something bigger
2018 YAE Camp | Art Re-Cap
Guest Artists + Speakers
Throughout YAE! Camp, we brought many local guest speakers to spend time with the students and share their art forms and life experiences. This provided an opportunity for the girls to communicate and interact with artists they look up to in a non lecture/authoritative setting. It was important for us to ensure that the girls felt like a part of our community and that they could speak to their role models in ways that would encourage seeing themselves in these artistic roles. This year, our guest speakers included:
• DeAngelo Raines (Art Not Crime), who spoke about the history of graffiti and hip hop culture.
• Local female street artists, Wokeface (@wokeface), All the Veg (@alltheveg), and Flowering Jane (@flowering_jane), who showed the girls their work and the wide range of styles that street art can embody.
• Local female DJ, Kaeli Hertz, who taught about mixing and turntable techniques as well as her experience in the industry.
• Ella Marra-Ketalaar, a Community Engagement Coordinator at the Regional Arts & Culture Council.
• Jesus Rodales (Find A Way), a local Portland dancer and activist encouraging cultural understanding of hip hop dance, who taught about the origins and history of street dance.
• Daisy Lim, a dancer from New Zealand, who taught the fundamentals of Krump and how to use creativity and imagination to be a storyteller with movement.
• Katie Janovec (The Aspire Project), a Portland based dancer who spoke about the fundamentals of popping.
• Bao Pham (ADAPT), another Portland based dancer who demonstrated the possibilities of movement by combining many styles of hip hop, creating her own unique movement vocabulary.
On the final day of YAE! Camp, we encouraged a "show and share," an opportunity for the girls to share something unique about them, and a time for us as mentors, to encourage the girls to use this individuality in their art. Many students shared from their black books (YAE! Camp provided sketch books, for the girls to keep and practice in) their drawing styles.
One student from Mongolia shared her new found passion for taking graffiti style lettering and transposing it onto Mongolian letters. Two other students taught us about traditional African and Mexican dance. They brought the oufits required for these dance styles and performed some of the dances for us. One student told us she now likes experimenting with incorporating traditional African dance moves into her freestyle practices.
Camp was extended by two hours to invite friends, family, and the community to come see what we created and learned together. Students performed a choreographed dance, showing off their new moves and training on how to collaborate, move through space and remember choreography. Their participation in an all-female dance battle, showed their knowledge of artistic choice in free-styling and freedom of expression through dance. We then presented their group murals. The teams presented why they chose their design, what it meant to them, and their favorite camp experiences. This event was not only an opportunity for our students to show their work, but also a chance for the community to see what we can be build when a safe space for learning and creativity is provided to young emerging artists.
The response and support of YAE! Camp from our students, parents, and community was unbelievably humbling. During the wrap party, students also had the opportunity to provide camp organizers feedback on the week's activities. A short anonymous survey was distributed to the youth. Eight of the nine girls 'strongly agreed' that they liked YAE Camp and would want to attend again, with one girl saying they 'agreed' and would 'maybe' come back.
2018 SPONSORS + DONORS
One of YAE! Camp's main goals will always be providing affordable access to quality arts training. In its first year, we awarded seven 100% scholarships, one 75% scholarship, and one 50% scholarship. YAE Camp 2018 was partially funded by a seed grant from the Open Meadows Foundation. In addition to sponsoring 3 schalorship spots, Killian Pacific provided the use of vacant space in Clay Creative for the camp. Ike's Tug & Supply (@kobrapaint_ikestugandsupply) donated all of the spray paint.