'What is a festival? It's something exceptional, something out of the ordinary . . . something that must create a special atmosphere which stems not only from the quality of the art and the production, but from the countryside, the ambience of a city and the traditions . . . of a region (de Rougement, quoted in Isar, 1976).
Beginning in the early late 1990s and early 2000s, a new contemporary art movement began sweeping the globe, this time transgressing the walls of the gallery and museum and resided primarily in the streets. Some modern cities are transforming into free public art galleries, showcasing talent from near and far. It has been said that street art is one of the most influential art movements of recent history. With roots in graffiti culture, pop art, and community muralism, contemporary street art is the current culmination of global communities coming together in time and space. These festivals have a way of producing both a mass spectacle of new art splashing onto millions via social media. On the ground, festivalgoers get a temporary glimpse into public spaces that have no bounds, where a carnivalesque atmosphere allow people the freedom to gather and use the streets for expression of all kinds.
Festivals play an important role in countering the social and homogenizing crises faced by cities in the context of globalization. The growing interest in festivity and street art is partly a grassroots reaction and strategy to combat the growing alienation and insecurity we feel in increasingly commercialized, militarized and bureaucratically-controlled public spaces. A new generation of artists, organizers, and activists see the city as their canvas and message board. In many modern cities, the urban landscape provides endless amounts of blank indeterminate spaces. These are canvases in the eyes of many, and are a striking and accessible context for their art and message.
Large multi-year street art festivals are now happening in cities around the world. This proliferation and resilience is evidence that these festivals have some use-value in society, for social-bonding, place-making, or place-marketing.
The following research is the culmination of several years of visiting street art festivals across in the U.S, including some of the largest and most well-known street art festivals in the U.S. like POW! WOW! (Honolulu, Tawian, Austin), Art Basel (Miami, Basel, Hong Kong), Bushwick Open Studios (New York City), and Forest for the Trees (Portland, Oregon). We actively experienced and participated in these festivals in multiple roles, from mere spectators and party-goers to managing paintings and tours. This multi-level engagement gave us unique first-hand glimpses into the festivals intricacies, similarities, and differences in their organization, styles, and impact on people and places.
During these festivals, local and visiting artists collaborate on public art murals and interventions. For artists, they benefit not only from the exposure, but also by participating in gallery exhibitions, lectures, workshops, and panel discussions. Public engagement is a key component of these festivals as organizers attempt to create welcoming spaces and opportunities where the community can interact, network, and learn from artists.
Logistically, these festivals take an immense amount of time, effort, and money to orchestrate. Some festivals are run by city governments, or arts commissions, but many, and we argue the best, are run by a dedicated group of local citizens and small business owners who are active in the arts community of their cities. Regardless of their position, festival organizers spend up to a year planning for a week-long event. Relationships with local business and property owners must be nurtured to secure ample wall space and to find spaces to host events. Sponsorship must be secured from city governments, crowd-funding, and corporations. There is also the logistics of providing paint, lifts, and supplies to muralists.
Differences between these festivals are seen in the way they are founded, who the organizers are, and how they are operated.
POW! WOW! is a more localized festival, started by a group of artists based atLana Lane Studios. All the murals are located in the Kaka'ako warehouse and manufacturing district where Lana Lane Studios is located. Founder and director of POW! WOW! Hawaii describes what he has created over the past 5 years as a "global network of artists and organizes gallery shows, lecture series, schools for art and music, mural projects." This weeklong event is managed by seven directors, and includes over 100 visiting and local visual artists, and countless documenters and festivalgoers. Each artist is sent photographs of the available walls and asked to pick their top five location choices. Event coordinators then try to match artists with appropriate walls that they have been working to secure all year. With now increasingly limited wall space in the Kaka'ako district of Honolulu, some older murals are buffed to make way for new murals, other times artists are paired together to share a wall and form impromptu artistic collaborations. Local graffiti crews and street artists are also invited to participate in the festival and are provided wall space to showcase their talent. What is particularly unique about Pow Wow, is that upon arrival the artists are provided "cultural tours," so they can consider setting, place, and cultural history when creating the work they put on the streets of Honolulu.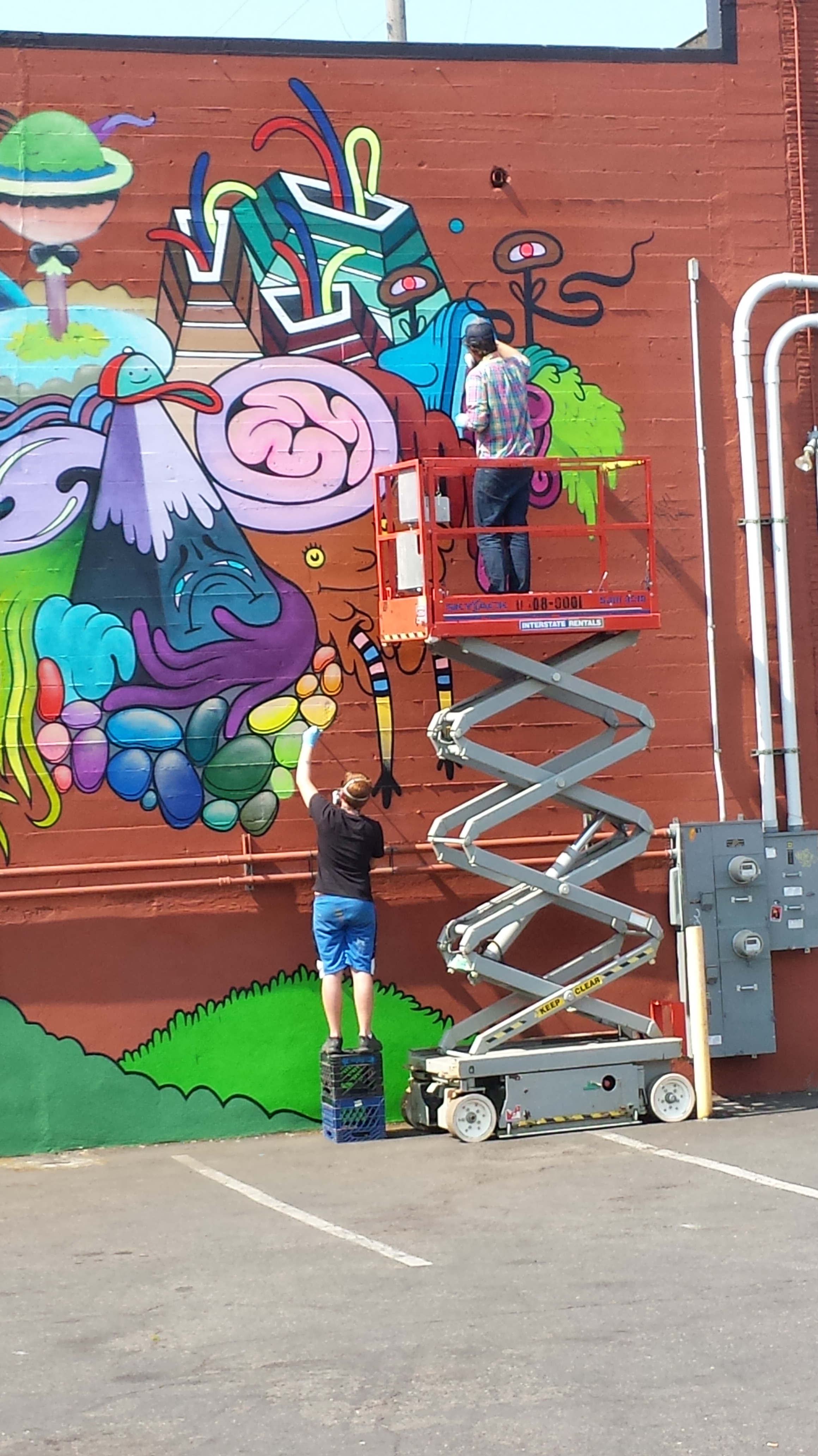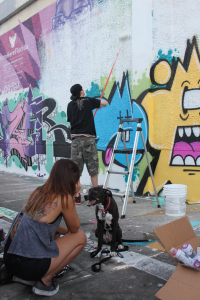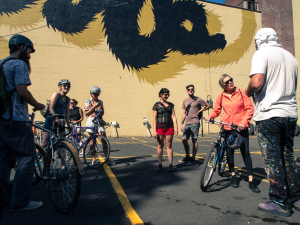 Bushwick Open Studios describes itself as a "volunteer, non-hierarchical organization" with "a completely open structure." Anyone in the community who is willing to volunteer their time is welcome to join and take on a leadership role. Artists who want to paint can arrange a mural with neighborhood property owner as they normally would. Artist living and working in Bushwick open their studios up to visitors hosting gallery shows and parties. A few blocks are closed to traffic, turf is laid, bands play, and food carts serve up local specialties.
Comparatively, POW! WOW! and Forest for the Trees are more centralized and planned out by a single entity.
The Forest for the Trees (FFTT) public art project was founded and is directed by a local artist and gallery curator. FFTT murals are spread throughout the City of Portland, rather than being concentrated into one district. Several large-scale murals are located downtown, but the majority are located along the main drags of Portland's five districts. In 2014, 23 artists from Portland and around the world paint over 20 walls.
The event, now in its second year, assigns twenty artists, half of them regional, to locations throughout Portland. The results are site-specific, significant-scale murals painted in a variety of styles and palettes on sixteen buildings in mainly close-in neighborhoods about the city.
Said to be the first large-scale art festivals of its kind (started in 1970), Art Basel Miami exhibits more decentralized management, being part of a larger event that focuses on gallery art. Murals are mainly organized by several art galleries, property owners, and developers working in tandem. Like POW! WOW!, Art Basel is centered in one area, the Wynwood Arts District. Wynwood was a consorted effort started by developers who redeveloped warehouses, factories, and unused buildings into art complexes, galleries, restaurants, cafes, and other creative businesses.
Broad local outreach is an important factor in planning these festivals. It is easy for international festivals like these to be criticized for ignoring or outdoing local talent. At POW! WOW! 2014, several indicators of resistance were documented including mural tagging and pasted protest flyers. In Bushwick, it took the form of stenciled sidewalk messages.
Festivals also run the risk of being difficult to navigate for artists and visitors and co-opted and corporatized by marketers. Like street art, there is a great possibility and threat of commodification and disenchantment with these festivals. Successful events must find a balance between many factors; infusing the city with new art and ideas, all while paying homage to and preserving local cultures. There is also the issues of how to pay for the events and murals, perhaps profiting but trying to maintain legitimacy by not "selling out."
For every mural, however, there are countless unauthorized graffiti interventions. Artists who visit might do an official piece on one corner and a few blocks away do an un-commissioned piece. The juxtaposition of planned and spontaneity adds to the allure of these events for spectators. Generally, business owners allow this activity to happen during the festival (after all many of them are benefiting from the foot-traffic and tourism) but like after Art Basel, many buff and remove it after the event is over.
For the viewer, it is fascinating to watch the process of mural making unfold day after day. Each artist has their own unique style, method, and approach. Some use only aerosol, others use a combination of aerosol for fill and brush for detail, others use rollers, mittens, chisels, and hammers. Seeing a piece jump from a black-book to a wall, outlined, filled in, rendered, and detailed is an exciting journey into the artists' craft and personality. Some work quickly, others take a slower pace. Some rise with the sun, others paint through the night. Everyone however must work with what is given to them, adjusting their artistic visions to fit the walls and contours of the space.
Artists benefit from these festivals by being provided spaces to showcase their work to new audiences in other cities. There is an influx of new ideas and styles into the city's art scene. Cultural exchanges are made, as artists learn to work together, blend styles, sometimes without even speaking a common language. The result is entirely new forms of art that would have otherwise never have happened. Forest for the Trees specifically aims to create a mix of traditional street artists, those with backgrounds in graffiti-style, and even fine, sculptural, and graphic art.
Artists are provided opportunities to meet, reconnect, and network with other visual artists from around the world. Introductions are made, and cards and stickers are swapped. Convergences like these provide a platform for sharing ideas and building new partnerships. Although social media has provided an amazing platform for connecting with others, face-to-face interaction often offers the possibility of forming stronger more lasting relationships than those based solely online. These types of 'meeting grounds' are where new cultural movements form, solidify, and evolve.
Another benefit of organized art festivals is that sometimes it is difficult to get walls in cities where one does not physically live, or have connections to. Having someone on-the-ground helping visiting artists secure wall space is essential, especially in a city like Portland where having the permission of a property owner is not enough – all murals also need a city permit (or RACC wavier). Attaining a city permit is a month-long process that requires someone applying, paying a $50 fee, posting a mural notice, and holding a community meeting all things that are difficult or impossible to do remotely.
Street art and festivals can also positively impact surrounding businesses and drive local tourism. They call attention to now unique places and make people want to get out of their cars, walk around, and enjoy the streets. Traditional art hubs like New York City, Paris, Berlin, London, Sao Paulo, and more recently, Detroit and New Orleans, are becoming destinations for creative-types and art connoisseurs.
Finally, and perhaps most importantly, these events provide a way for the general public to engage in the process of public art making. Public art is a democratic form of art. People do not have to pay to go to a museum, or feel uncomfortable going to a fine art gallery to see amazing modern art; they just have to explore and walk the streets of their city.
Organizers' use of social media to promote, inform, and connect with their audiences. In addition to informational webpages, interactive maps, and press releases, these festivals use platforms such as Instagram, Twitter, and Facebook to notify the public of events, locations, and opportunities. POW! WOW! offers free lectures and classes on various topics during the festival, and in 2014, Portland Street Art Alliance partnered with Forest of the Trees to offer a guided bicycle tour to help the public engage with the muralists and the new exciting spaces being created.
Moving art from the studio and canvas, and into city streets, has a powerful effect on people and places. Concentrated public artistic interventions like these street art festivals can dramatically transform landscapes, uses, and compositions of cities. Making public art is a bold statement and a powerful tool. Street art festivals distill creative energy into one space and time, and have an everlasting ripple effect on the people and cities. This global movement is inspiring people to re-energize their public realms, one wall, one space, and one conversation at a time.
The global street art communities converge at these festivals to create a more inspiring streetscape. A truly exceptional break from the ordinary, a certain time when people celebrate in the public sphere, art runs freely through the streets, and life springs up out of the cracks of the city streets.